News Archive
Titleist Brand Ambassador Rory McIlroy Trusts Pro V1x Golf Ball, Bag Full of Titleist Equipment to Historic U.S. Open Victory
Titleist Brand Ambassador Rory McIlroy Trusts Pro V1x Golf Ball, Bag Full of Titleist Equipment to Historic U.S. Open Victory
In winning the 111th United States Open Championship, Titleist Brand Ambassador Rory McIlroy registered one of golf's all-time dominating performances, trusting a Titleist Pro V1x golf ball and a bag full of Titleist equipment to a historic eight-shot victory and his first major championship.

Over the four rounds at Congressional Country Club, McIlroy set or tied 12 tournament records, posting rounds of 65-66-68-69 to finish at 16 under (268), a red number that U.S. Open scoreboards had yet to display for over 110 years before Sunday.

(For the record, they'd never shown 13 under, 14 under or 15 under, either. He got to 17 under at one point, too.)
At 22 years, 1 month and 5 days, McIlroy also became the youngest U.S. Open champion since Bobby Jones won the 1923 U.S. Open at 21 years, 3 months and 28 days.
His new scoring records are just days (even hours) old:

• Fastest to double-digits under par (26 holes);
• Largest 36-hole lead (T-6);
• Low first-36 holes (131);
• Most strokes under par for 36 holes (-11);
• Low first-54 holes (199);
• Most strokes under par for 54 holes (-14);
• Low 72-hole total (268); and
• Most strokes under par for 72 holes (-16).

It was indeed a spectacle, a four-day highlight reel that mesmerized golfers anywhere and everywhere.
He concluded the show by tapping in his Pro V1x ball from 2 feet for par on Congressional's 18th green and raising his right fist in the air. Seconds later, McIlroy walked into the outstetched arms of his father, Gerry, saying simply, "Happy Father's Day."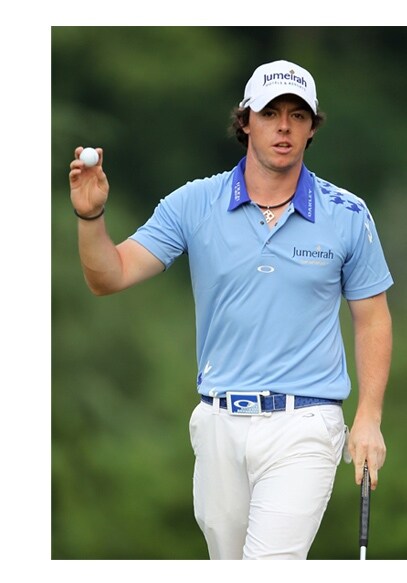 "The whole week was special. I could not have asked for anything more," said McIlroy, who has now led after seven of the eight major championship rounds of 2011.
For the week, McIlroy hit 62 of 72 of greens in regulation (86 percent), using his Titleist MB irons and Vokey Design Spin Milled wedges to author a legendary tale of precision (and tap-in birdies).
He averaged 1.65 putts per green, putting with a Scotty Cameron Newport GSS Prototype in a chromatic bronze finish that may as well have been gold.
McIlroy rolled his Pro V1x golf ball in for 19 birdies, one eagle and 48 pars.
He made just two bogeys and one double-bogey in 72 holes.

"When you're swinging well and you're that comfortable, everything just seems quite rhythmical, even the way you walk and just your whole thought process, everything just seems to go quite well," he said. "I didn't really have a swing thought this week. I was just seeing the target and hitting it. It was just one of those weeks where everything was on and it worked out the right way."

McIlroy was one of 96 players in the field at Congressional Country Club that relied on a Titleist golf ball for their success, more than five times the nearest competitor with 19 and more than all competitors combined. It marked the 63rd-consecutive year that Titleist was the #1 golf ball at the U.S. Open.

Here's a closer look at Rory McIlroy's Titleist equipment:


Ball: Titleist Pro V1x

Driver: Titleist 910D2 8.5º, C•2 SureFit Tour hosel setting (Fujikura Rombax 7V05)

3-wood: Titleist 906F2 13º (Fujikura Pro95)

5-wood: Titleist 906F2 18º (Fujikura Pro95)

Irons: Titleist MB 3-9 (Project X Steel)

Wedges: Vokey Design Spin Milled 248•10º (bent to 46º), SM54•10º, 60Lº (Project X Steel)

Putter: Scotty Cameron GSS prototype


Top of Page